The President, Congress, and the Supreme Court just failed millions of tenants across the country by caving to the pressure of greedy landlords and developers and allowing the CDC Eviction Moratorium to end.
For many families renting, especially those in Republican-controlled states, the scant protection available under the Moratorium was the only thing preventing homelessness. How are renters supposed to fight back as landlords demand more and more, the COVID-19 pandemic surges unabated, and local and national elected officials from both parties ignore the problem?
For the 5,400-person community of Nelsonville in Athens County, Ohio, the answer begins with deep listening and transformational organizing door-to-door. Building off the successful model of the Bedford County Listening Project (featured this week in a profile in the New Yorker), members of Nelsonville Voices know there is no shortcut to overcoming the isolation and Rightwing fear-mongering in their community. They understand that real, long term change is only possible with real, long term organizing and investment.
Athens County, Ohio, has the highest overall poverty rate in the state, and Nelsonville's rates are higher still, with the town coming in at 11th in the state in childhood poverty. Destructive stereotypes about poverty and drug use fracture the community, and isolation keeps residents stuck blaming each other for structural problems. The rising onslaught of racialized capitalism and white supremacy have created lasting conditions of suffering for working people throughout Appalachian Ohio.
While all of those conditions are true, Nelsonville residents know there is so much worth fighting for. When asked what they like about living here, many residents have emphasized that knowing their neighbors in a small, relatively quiet town is the only way they want to live and raise a family. They envision an end to homelessness and want to fight for a better future for the community's children. Just because Nelsonville is a place that has been left behind by political parties and corporations, doesn't mean their town is disposable.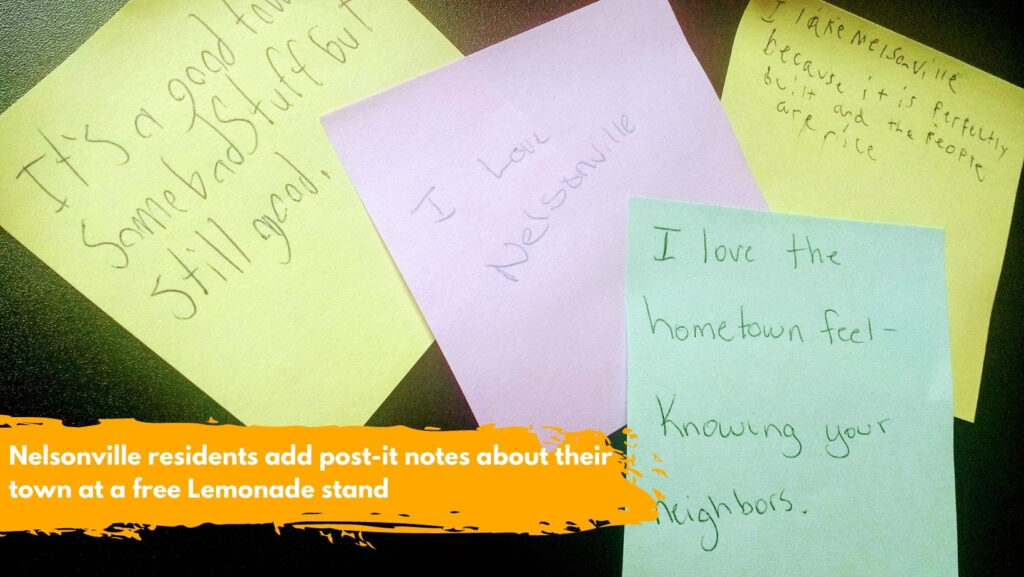 Led by a skilled SURJ organizer who has lived and organized around Nelsonville for years, Nelsonville Voices has launched a listening project to connect neighbors to each other and identify issues that bring folks together to make change. Using creative outreach strategies like free lemonade stands, members have already connected with 30 residents and plan to talk to 150 more by October (over 3% of the whole population!). By meeting people where they are, literally on their doorstep and without judgment, members are holding hour-long conversations that begin to move the needle on what residents think is possible.
And a lot is possible in rural Ohio. Donald Trump won Nelsonville by just 13 votes in 2016, and just 17 votes in 2020. Prior to 2016, Democrats won nearly all down-ballot races. Flipping rural Ohio blue is an important next step in tipping Ohio's entire electoral landscape, but this won't be possible unless we mobilize communities that are most harmed by neoliberal and right-wing policies that allow poverty, criminalization, and unemployment to thrive.
As part of a layered strategy across the state of Ohio, SURJ is building in Cleveland, Cincinnati, Dayton, and Appalachian Ohio to move thousands of white people to realize their mutual interest with people of color and take back their communities from right-wing control.