Answering the Call of Black Leaders
"You do have a choice. You don't have to be a part of the world of the lynchers. You can join the other America. There is another America!"

– James Patterson, Black Southern Civil Rights leader, wrote this to Anne Braden, a white Southern Civil Rights leader, in a time she was struggling with her role in the work of racial justice
Our story is one branch of a deep history of white people who have answered the call to choose "the other America." SURJ has its roots in the call from the Black liberation movement in the mid 1960's. From the Student Nonviolent Coordinating Committee (SNCC) to the Black Panther Party, Black leaders in the civil rights struggle have continually asked white people to organize for racial justice in white communities — the places where the support for racism lives.
These movement leaders knew that undermining racism in white communities and bringing more poor and working class white people into multiracial coalitions would undermine the power of the racist right and strengthen support for a racial justice agenda.
Backlash to a "Post-Racial" President
SURJ was founded in the wake of the election of President Barack Obama in 2009. Far from ushering in the "post-racial" era that too many—largely white people— expected, the election of the country's first Black president was met with a vicious and powerful racist backlash. We also saw corporations and the Right use racism strategically to undermine the fight for healthcare for all because of its potential to cover immigrant families and poor Black people.
A Political Home for White People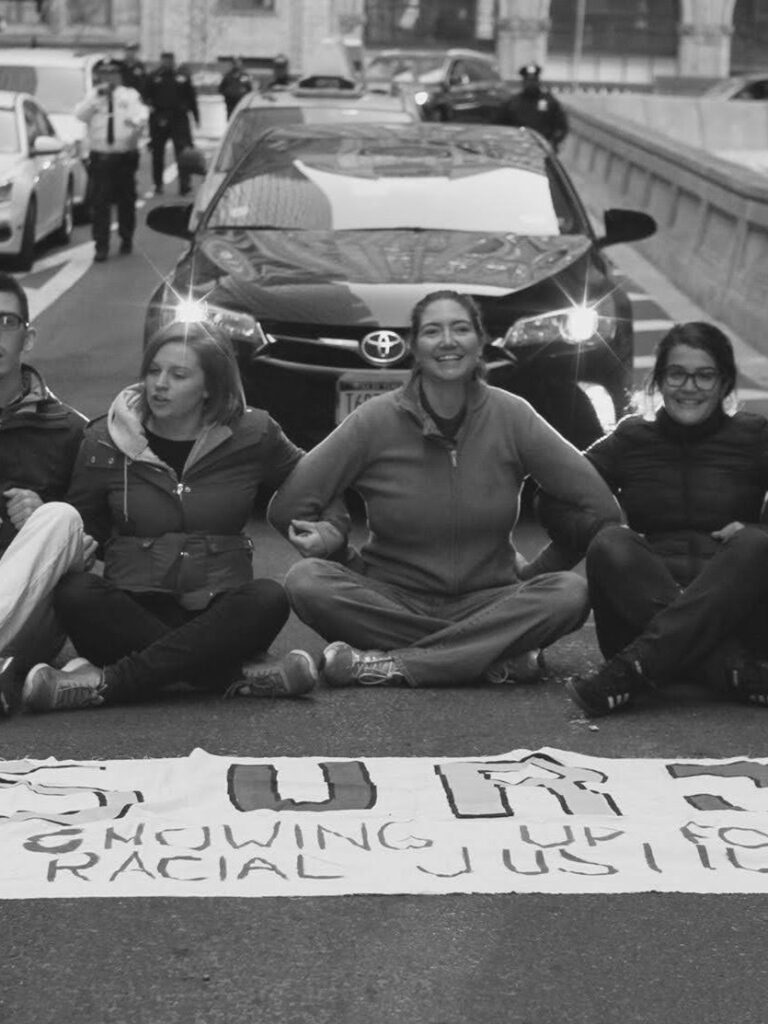 It was in this context that white-antiracist organizers across the country began dreaming bigger about what was needed in white communities— among them Carla F Wallace, in Louisville, KY and Pam McMichael, then Executive Director of the Highlander Center in New Market, TN. Both McMichael and Wallace had been mentored by Anne Braden and other Civil Rights leaders from the South. They helped found the Fairness Campaign in Kentucky in the 1990's, which worked at the intersections of race and sexuality to win civil rights legislative protections for LGBT+ people. The first coordinating team included leaders from AWARE LA, Highlander Center, and the Catalyst Project, which played a central role in SURJ's formation.
On September 11, 2009, McMichael convened a call that included 21 white people engaged in racial justice work to discuss this question and plan action. Over time, a loose national network emerged, anchored by a working group with representatives from across the country that was intergenerational, cross class, rural/urban— and it is no accident that queer and gender-nonconforming activists were overwhelmingly part of the formation of SURJ. Some people came connected to organizations, some of which were multi-racial and some white, and some people came as individuals deeply concerned about white supremacy and the growing power of the Right in white communities.
Key frameworks
In those early years as we moved from a loose collective of individuals and groups and towards a more structured organization, we laid out these key frameworks for the work:
We saw our work as bringing more and more white people into supporting the Black and POC-led struggle. As a multiracial movement, we needed to win both immediate reforms to address our needs and long-term, transformative change.
Organizing was our approach. Instead of focusing solely on self-education, we knew that educating our members must be connected to taking collective action and strengthening our connections within our community of supporters..
However, this work was never about white people going away by ourselves, but rather recognizing white people's particular responsibility in organizing in our communities and growing the base of our people involved in justice movements.
Our focus was to get white folks who saw themselves as antiracist, involved in organizing other white people, and to bring together others who were not already active in justice work or who were unsure about how to take action.
We did not approach this work thinking we had all the answers or that this was the only way to move white people into racial justice action.
Being in relationship with and following the leadership of liberatory Black and POC-led movement organizations was always key and central.
SURJ's work has grown, changed, and expanded in many powerful ways since those early days. And yet, so much of the core of what called us to the work in the first place remains the same. In all our work going forward, we honor our roots as we build on them and move forward.