A fight at the intersections of climate justice, privatization, racial justice and abolition is exploding in Atlanta, Georgia. And SURJ is organizing on-the ground to ensure that white residents act in solidarity with Black and Brown people leading the struggle to shut down the construction of a $90 Million "Cop City," the building of which would require bulldozing 381 acres of forest land.
Despite massive opposition from residents during public comment, in which 70% of people who called opposed Cop City, the City Council voted to move forward with the proposal and ignore the clear will of the people. As a further slap in the face, the cop training center will be called the "Institute of Social Justice"– bitterly ironic for a city that struck down any police reform measures after a summer of historic uprisings and 59 police shootings in 2020.
Taxpayers will be on the hook for 1/3rd of the estimated cost, at least $30 Million, yet control of the project belongs to a privately-funded organization called Atlanta Police Foundation backed by entities like Delta, Coca-Cola, UPS, and Cox Enterprises.
After being ignored by their elected representatives, residents across the city took to the streets to show their opposition to Cop City and reclaim their power.
SURJ joined in this city-wide public pressure campaign, by making calls to our supporters and canvassing in neighborhoods that will be directly impacted by Cop City. We talked to thousands of people in majority white communities about the dangers of privatization, the anti-democratic efforts of the City Council, and how increasing police budgets don't keep people safe.
Alongside Community Movement Builders and Women on the Rise, SURJ is pushing city leaders to make good on their promise to close the Atlanta City Detention Center, and to build a base of residents who oppose police state expansion for the long haul.
This campaign is a powerful example of how we must center race in the struggle for climate justice. Not only would Cop City divert public funding away from social services and into an already-bloated police budget, the proposed location would destroy Atlanta's primary defense against climate change: its tree canopy.
Destruction of the tree canopy and the 382 acres of forest land with it to make way for Cop City will add to a long legacy of theft and harm perpetrated on this site — first stolen from the Muscogee Creek tribe in a land lottery and later used for chattel slavery.
Well funded opposition to climate justice has successfully used white racial resentment in the U.S. to ensure majorities of white people block transformative climate demands that could save the planet. There is no way to shift the national balance of power on climate justice or inequality without scaled organizing in predominantly white communities that both transforms systems and the underlying beliefs that keep white communities separated from POC led-movements for justice.
As we saw in horrifying images of white troops on horseback whipping Black Haitian refugees fleeing climate-caused catastrophe, white supremacy and state police power will be used to oppress those most directly affected by climate change and to violently repress movements to stop climate catastrophe.
SURJ is organizing in Atlanta to ensure that white communities understand that environmentalism without anti-racism plays into the hands of Rightwing extremists who use race-baiting divide-and-conquer tactics to stop climate action altogether.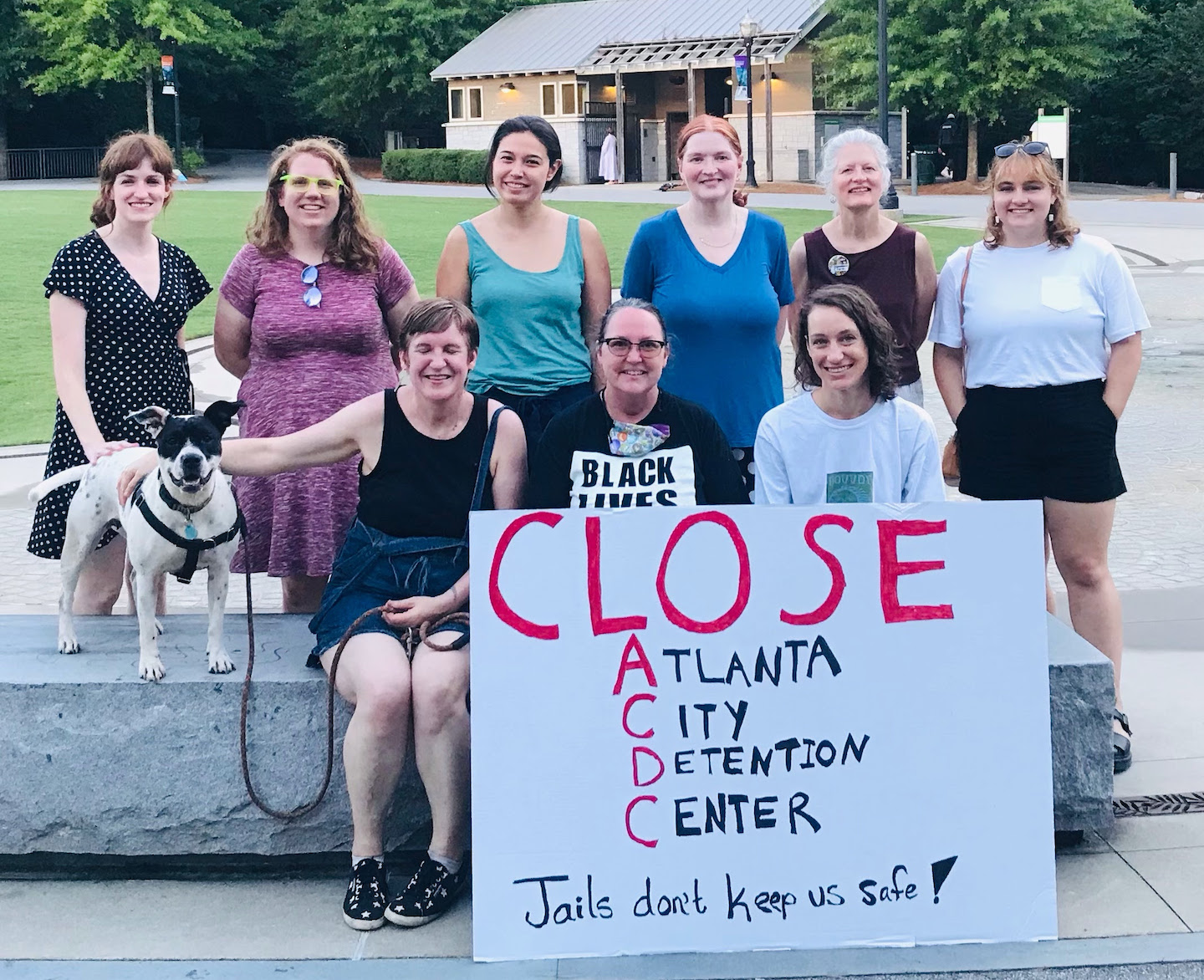 After joining SURJ canvassing, SURJ Atlanta member Lily P. reflected, "We cannot keep stoking this cycle [of increased police funding] with concessions. We have to resist any increase or continuation of police and prison budgets. We need to push City Council to spend their time building alternative supports for people of the city, as that is the only real way to improve safety here."
When City Council ignores the will of the people and sells out to a large police foundation run by corporations, it's up to us to reclaim our power and shut down Cop City.