This week, we wrap up SURJ's first ever Justice Now training cohort which provides base building and mutual interest storytelling training for SURJ chapters engaged in local campaigns to defund the police, stop the construction of new prisons, increase police accountability and mobilize white voters to elect the officials ready to back up these movement demands.
We need white anti-racist leadership who are clear about their stake in this work and who have the skills to bring more people in, move them to action, and keep them engaged in the fight for racial justice for the long haul.
We teamed up with leaders from the Boston, Buffalo, New York City, Ohio and Toronto chapters to support their transformative work to create change at the local level. We brought them organizing lessons learned and infrastructure we developed in our work to Swing Georgia Left, decarcerate during COVID, and help win the Measure R campaign in LA.
Leaders participated in intensive training on how to recruit people into their work – by writing recruitment scripts that center real conversations about motivation and mutual interest and learning the basics of running effective phone banks.
SURJ leaders also went through intensive storytelling training to help them get clearer on their stake in the fight for racial justice and practice sharing that with others. Leaders are already putting their learning into action in local recruitment phone banks that emphasize leadership development, relational organizing and growing the base we need to win.
Feedback from participants underscores how central these learnings are in their base building efforts so far:
I was feeling burnt out and tired of doing recruitment, and the training really helped energize me. It re-grounded me in foundational organizing principles and skills and I had two powerful FAB conversations the very next night.

Emma, SURJ Ohio organizer
I really appreciated how it was not just 'this is how to do a FAB style phone bank' but it was all about how to build that out within a campaign, complete with leadership development and overall growth of our capacity. It highlights how, as SURJ, our electoral work is more than turning people out for a single day or a single ask, but growing a leaderful movement, inviting people into a political home, and building for the long haul.

Josie, SURJ Buffalo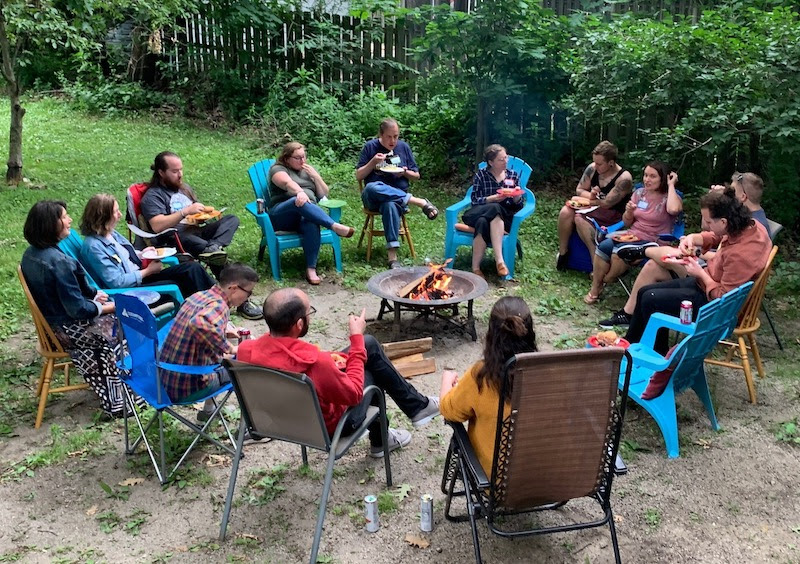 The SURJ network knows abolition requires transformative change at both the institutional and individual levels. We have a responsibility to articulate why abolition is important to us. We need to share with white communities what will change for the better in our own lives and invite others to fight alongside Black leaders to divest from policing and prisons and invest in health care, education and housing.
That's why our Justice Now training develops chapter leaders' ability to speak about their own lived experiences, values and choice to take action for abolition. Our organizing practices rooted in Southern, poor and working class, Queer, rural and multi-racial formations remind us that sharing personal stories is a powerful way to deepen our collective understanding of complex issues and emphasize that no matter who you are, you have a place in the fight for abolition.
I would love to make [mutual interest storytelling] common practice to share stories during our Toronto all-member meetings which happen monthly, and I want to bring mutual interest storytelling to our Kids and Families team to think through why we care about abolition from a kids/youth/families angle.

Tatiana, SURJ Toronto
The Justice Now cohort is committed to using mutual interest storytelling to recruit new members, explore how abolition will free us all, and break feelings of isolation that are especially prominent in white communities. While our movement has expanded at unprecedented rates, the Right has been doubling down on media narratives that fan the flames of racial hatred and undermine support of police and prison abolition.
In order to challenge entrenched power, decades of pro-police propaganda, and a legacy of white supremacy, we need organizers who understand how to recruit and maintain a base of white people who choose solidarity over fear. Look out for more opportunities to gain and implement these skills within your local chapter!