In this moment, as we see the rise of white nationalist and white supremacist violence and voter suppression bills introduced in 40 state houses, the right is pouring resources into maintaining the loyalty of the majority of white people and continuing to undermine democracy. We are up against billions of dollars and decades of widely coordinated strategy. Now is the time to build the work bigger and stronger.
Alongside our movement partners and as part of a multiracial coalition, we helped win extraordinary victories in 2020 and 2021. Extraordinary support from the SURJ community of donors helped achieve those wins and enabled us to double our field organizers over the past year — THANK YOU!
In Georgia, as part of the 2020 presidential election and subsequent Senate run-off election, SURJ made
1.8 million calls and knocked on 28,236 doors of white Democratic voters who we knew were suffering under the Trump administration and were less likely to vote.
SURJ has been building this work for over a decade. In 2021 we are positioned to grow our organizing at increasing scale and in strategic communities, focusing on abolition, economic justice and electoral power.
Abolition: Moving investments to communities for resources like health services, housing, and relief that keep our communities truly safe by divesting from policing and the carceral state.
Economic justice: We cannot separate the fight for racial justice from the fight for economic justice. The current system maintains wealth for the few by recruiting poor and working white people to see themselves as more aligned with those at the top than with working class communities of color. We are organizing for the long haul in strategic priority states to build bases of progressive power committed to racial justice with poor and working class white people.
Electoral power: In this moment of growing neofascist and white supremacist expression in the Republican Party, it is critical that we ensure Republicans do not take hold of the federal government again. Helping to build the base of progressive white voters in strategic districts and states is an essential role SURJ will play in 2022 midterm and state elections.
Your support and participation fuel SURJ's work in the movement to break the power of the right and to achieve democracy and racial and economic justice!
Will you help us meet this moment?
– Erin Heaney
National Director

Priority States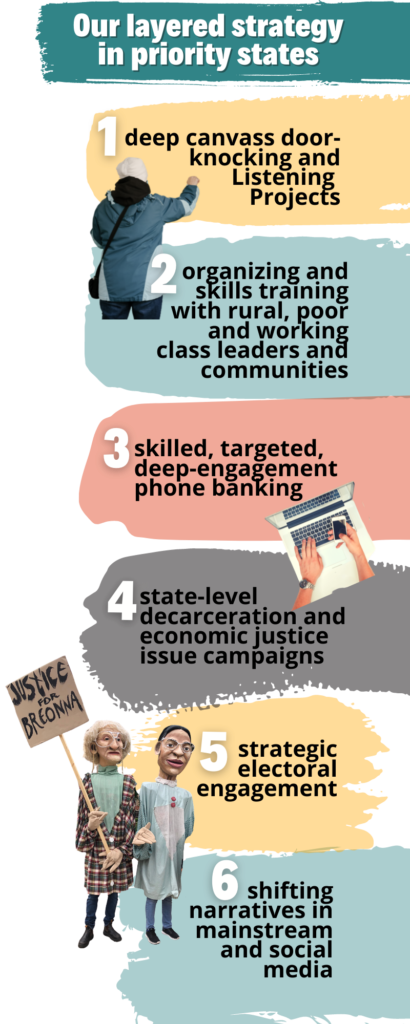 ​Expanding work in priority states of Georgia, Tennessee, Kentucky and Ohio, building our base of poor and working class organizing and multi-layered strategies to keep Congress in Democratic control, win campaigns for economic justice and abolition, and break up Republican trifectas where they control the governorship and both legislative houses within one state.
The Southern Crossroads team, as part of the Black-led multiracial, antiracist movement and the rich ecosystem of Southern organizing, is supporting deep organizing projects in our Southern priority states and launching our organizing apprenticeship program to support a cohort of new organizers in Kentucky, Tennessee, and Georgia this year.
In a layered strategy across the state of Georgia, our Southern Crossroads apprenticeship program will be recruiting rural leaders to lead covid-safe door-to-door work in rural districts. Our highly skilled phone banking teams will also be moving 55,000 targeted, engaging phone banking conversations in key rural counties. In addition to the long term impact for these communities, we are investing in the time-intensive process of growing progressive power to flip 4 Georgia State House districts (119, 138, 151, and 164).
The drive to break the Republican lock on the Georgia State House will require flipping 16 additional seats in coming years — an ambitious goal but one for which trends are shifting in a progressive direction. The NYTimes post-election analysis documented an increase in progressive voting by rural Georgia electorate among white rural voters without college degrees. And as we knocked on doors in Georgia, even when talking with white voters who had firmly decided not to vote, 20% of them changed their minds as a result of our conversations and committed to vote progressive. This is an important part of the impact we're building with poor and working class white communities for the long term as well as for the immediate needs we're facing in the 2022 fights for democratic governance in Georgia and nationally.
In Eastern Kentucky, SURJ's Southern Crossroads has launched long term, base building organizing work in majority (96%) white, predominantly rural, poor and working class counties, staffed by SURJ organizers who grew up in or near those communities.
Our Kentucky organizing work does not start with or focus on electoral campaigns, yet it is this kind of work alone which can build the foundation for progressive power in the rural South and eventually take apart the state-level Republican trifectas. We weave anti-racism work into the organizing campaigns that most often start with economic suffering identified in local listening projects. And we build multi-racial alliances with Black and POC led Kentucky organizing formations on our campaigns. The Eastern Kentucky counties in which we're working intersect with 3 State House seats, and they will play a critical role in building a base of poor and working class white people who support and take action for racial and economic justice and democratic governance.
The Louisville SURJ chapter has worked tirelessly in meeting the organizing opportunities for bringing more white people into supporting and taking action for racial justice throughout the past year. The growing rural-to-urban reach of SURJ organizing in Kentucky is increasing our leverage to push back against development and policies that are destructive to the lives of poor and working people everywhere and particularly in rural areas.
​In Tennessee, the Bedford County Listening Project (BCLP), is building on the victory of BCLP leader Stephanie Isaacs, who defeated a 23-year incumbent town councilperson. In an area that voted for Trump by a 50-point margin, Isaacs won on a platform of renters' rights, anti-KKK, and a government accessible to working people like herself.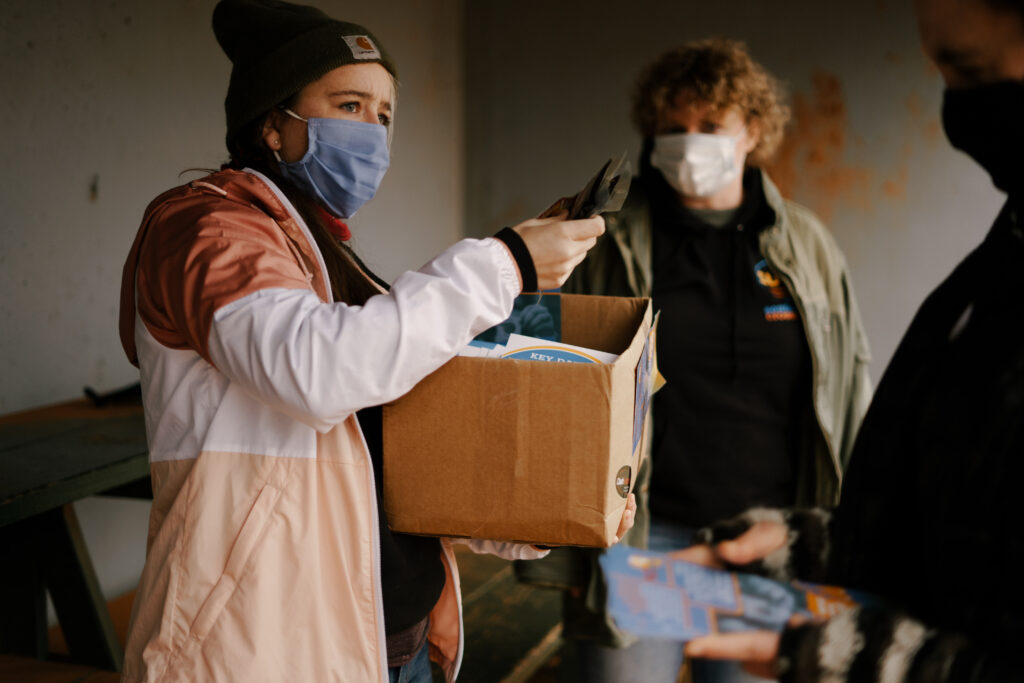 BCLP is helping to start a statewide housing coalition and will be adding a listening project in the 4th Congressional district to expand tenants' unions through door knocking, phone banks, and COVID-safe gatherings. Building with Black and Brown led organizations to concentrate on developing rural leaders, we will be power mapping the district to build the base for the long haul work for 2022 and beyond.
We see the path for flipping Tennessee through this long term work. Tennessee has 423,705 low income white Democrats who rarely if ever vote (one of the highest percentages in the US) and another 207,839 eligible adults who are not registered. Trump won Tennessee by 709,000 votes in 2020, so the margins for winning long term are within reach if we grow resources and training to hometown leaders through our Southern Crossroads apprenticeship program.
In Ohio, political power held by the right has allowed the war on drugs to intensify, deaths from overdose to skyrocket, and state and police violence to go unchecked- especially against Black communities. In alliance with Black-led organizing, SURJ Ohio is moving a statewide strategy with poor white communities where the intersections of criminalization, incarceration, and the need for harm reduction are starting points for growing white support for anti-racist organizing and systemic change.
In Northeast Ohio, we are organizing for a 2021 ballot initiative building on 5 years of police accountability work with Citizens for a Safer Cleveland. We are adding an organizer working alongside highly skilled SURJ chapters in communities who are overrepresented in the legal system and the Cuyahoga County Jail. The initiative would establish a permanent, empowered and funded community controlled police oversight committee with a level of oversight and control that is the first of its kind in the US. The SURJ Ohio organizer will also be working collaboratively with the local Jail Coalition's Care Not Cages campaign creating an Alternatives to Incarceration working group advancing "care first, incarceration last" decarceration practices and increasing care services.
In the heart of Appalachian Southeast Ohio we are launching a new listening project in rural Nelsonville to lay the groundwork for widening regional organizing with poor white communities. This is an especially important opportunity to develop regionally specific door knocking scripts that inoculate against white supremacist messaging and are based in white communities' mutual interest in police accountability campaigns while also building out an electoral base.
SURJ's Disability Access staff continues to infuse SURJ's organizing in priority states with a Disability Justice lens and deepen white disabled people's commitment to anti-racist organizing. Because people with disabilities are more likely to be incarcerated or harmed by the police and to live in poverty, we're helping non-disabled people throughout SURJ understand the core role of Disability Justice in building the power base for achieving economic justice, abolition, and dismantling white supremacy.
SURJ National Network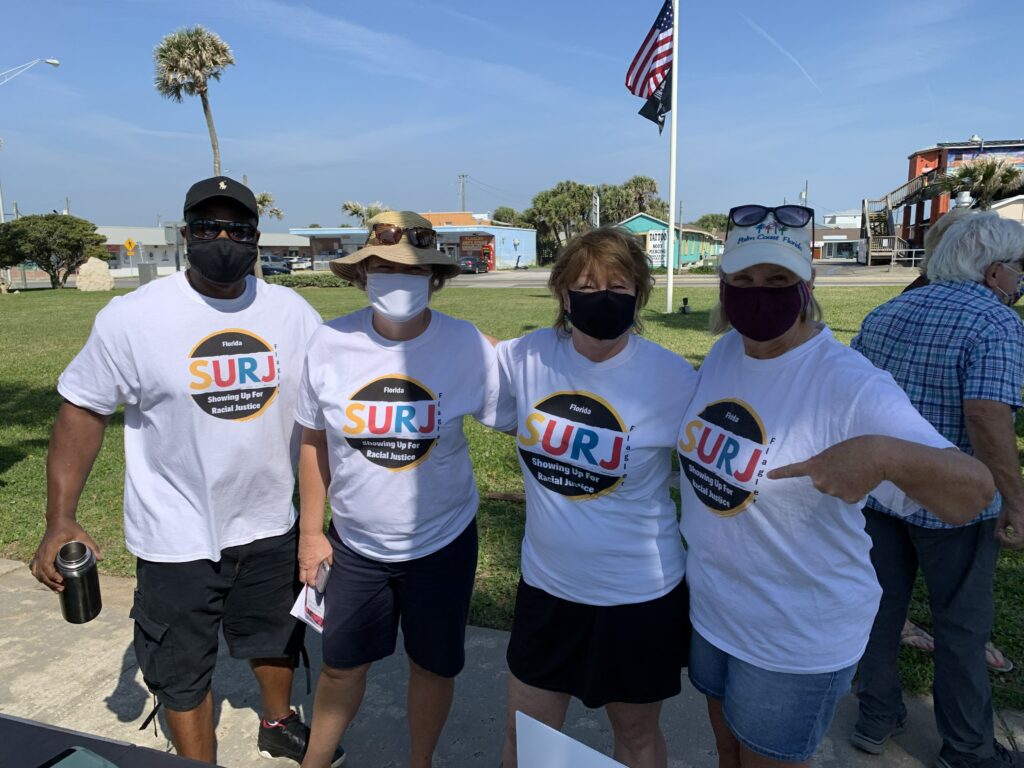 The SURJ National Network advances our work for abolition and includes 175 chapters and a network of individual members that engage phone banking and other calls to action in support of core partner organizations.
Our National Network "Justice Now" program deepens our members' base building, recruitment and member retention skills, and strengthens their capacity for building mutual interest approaches to organizing.
Beginning this year in Atlanta— and as part of a multi-layered strategy to move white support for racial justice in Georgia and nationally— we are investing our people power and staff resources on increasing the base for winning abolition campaigns across the country, with major campaigns in Buffalo, New York, and Boston, and potential additional campaigns with partners in the South and West.
Early this year we started a full-time staff organizer working with the SURJ Atlanta chapter organizing white communities to support the fight to make the city safer and more equitable. Working alongside and with the leadership of groups like Women on the Rise and Solutions Not Punishment (SNAP) — both Black women and Femme-led organizations in Atlanta — the campaign is fighting to close the city jail and detention center, expand diversion and community service, reinvest funds to community needs, and implement commonsense justice reforms such as changing the municipal code and policing practices to eliminate incarceration for municipal code offenses such as jaywalking. The campaign is building toward a crucial City Council committee vote on April 19 and on impacting city-wide council races in November.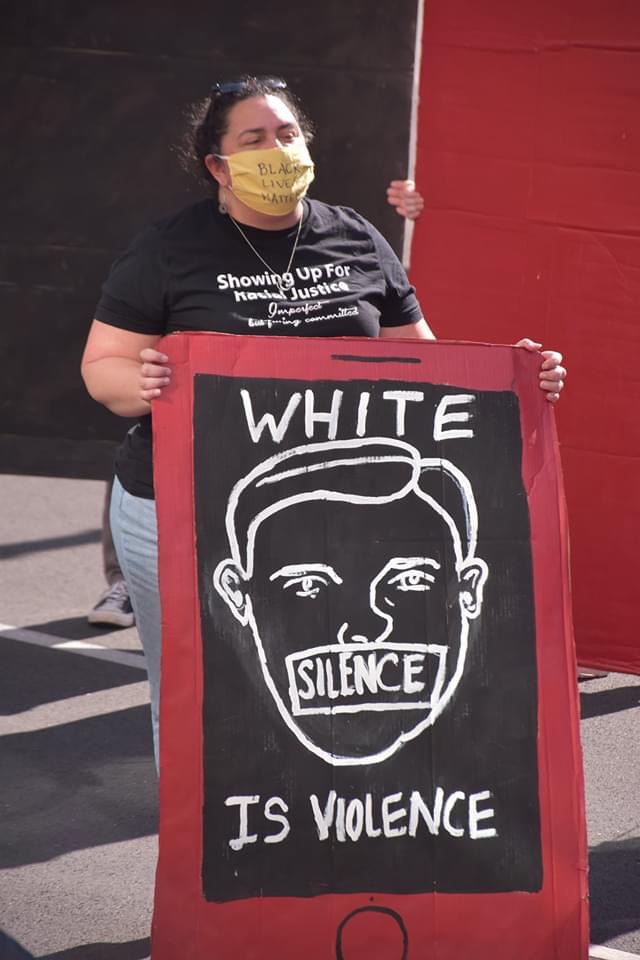 ​Our major abolition campaigns in 2021, such as in Atlanta, will be training hubs for chapters across the country in scaling their member recruitment, turnout, retention and voter contact phone banking to help win local abolition and economic justice campaigns and in strengthening their local organizing in the lead-up to the 2022 elections. Because we've built a strong, deep-engagement phone banking model where participants can make a meaningful impact from a distance and in virtual spaces, these projects will have lasting impacts on the scale at which chapters can build the long term base and power to win local and regional abolition campaigns.
As a key component of abolition work, the SURJ Disability Access staff team is building a base of DJ organizers to initiate campaigns led by disabled people that specifically address issues with institutionalization, healthcare, guardianship, and care so that when people exit jails they don't get pushed between institutions.
SURJ Faith is growing a national network of faith-rooted folks taking action in local, regional, and national SURJ campaigns. SURJ Faith's Community Safety for All Toolkit helps faith leaders and congregations engage in concrete actions and campaigns for abolition and economic justice. And SURJ Faith builds movement partnerships with faith organizations and leaders who share similar goals.
Electoral Impact
Alongside our movement partners, and as part of multiracial coalitions, SURJ is positioned to play a unique role in engaging majority white communities and white voters in the fight for voting rights, criminal justice reform and electing progressive champions.
In Georgia, as part of the 2020 presidential election and subsequent Senate run-off election, SURJ made 1.8 million calls and knocked on 28,236 doors of white Democratic voters who we knew were suffering under the Trump administration and were less likely to vote. We engaged over 3,800 volunteers who filled over 10,000 voter contact shifts. This resulted in 71,000 conversations with voters that secured 21,200 vote commitments for Biden and 13,500 vote commitments for Ossoff and Warnock.
As we build our base in priority states of Georgia, Kentucky, Tennessee and Ohio, and move critical margins of white voters to vote progressive in key electoral campaigns in New York and Boston, we are also in discussion with our partners about a number of additional states where SURJ chapters and members organizing in white communities can make critical electoral differences while also building a long term progressive super-majority.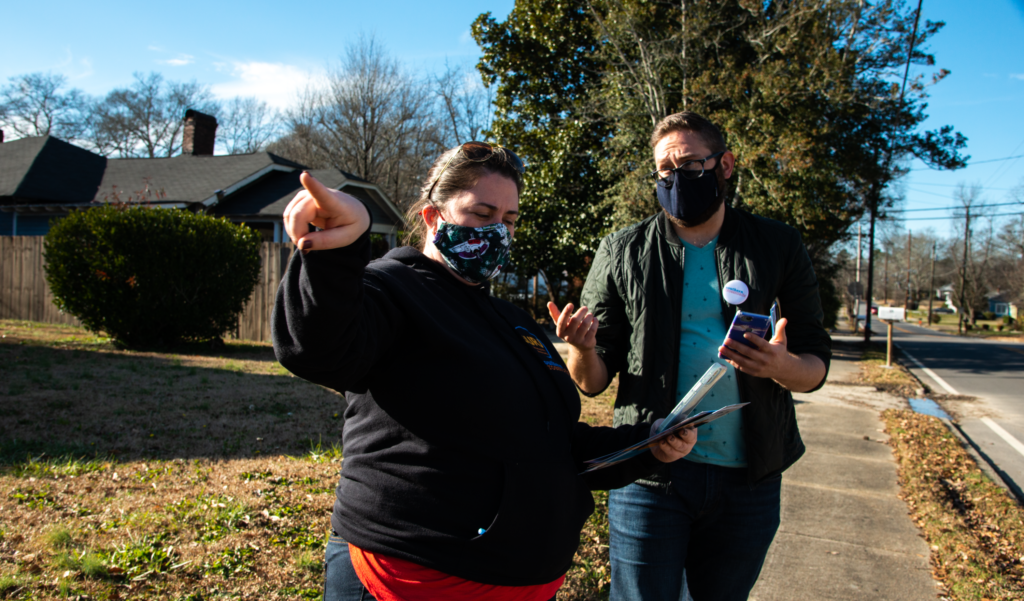 We know this work is bigger than any one issue or campaign alone. We know white supremacist violence, voter suppression, and the flaws in our economic system are affecting people and communities everywhere. SURJ national is committed to growing the organizing that builds on these core issues in poor, working class and rural communities, especially in the South, and to building the base and the partnerships required to grow these organizing efforts to the scale required for lasting change.
As part of a Black-led multi-racial coalition, SURJ is bringing white people into organizing for racial justice in majority-white communities to shift the balance of power toward justice in this country. SURJ trains thousands of white people in organizing skills so that mass mobilizations grow into in-depth organizing and long-term commitments to fundamentally change the inequality and injustice of our systems of economics and governance.
Donate to SURJ
​How to give to SURJ or SURJ Education Fund
Gifts to SURJ, Inc. (501c4) allow the maximum flexibility in resourcing the work, but gifts to either organization are deeply appreciated! And please support our solidarity partners at showingupforracialjustice.org/match
For Showing Up for Racial Justice, Inc. (SURJ), (501c4)
Online: secure.actblue.com/donate/surj
By mail:
Showing Up for Racial Justice
PO Box 1376
Buffalo, NY 14205
For Showing Up for Racial Justice Education Fund (SURJ Ed) (501c3)
Online: secure.actblue.com/donate/surjgive
By mail:
​Showing Up for Racial Justice Education Fund
P.O. Box 1053
Buffalo, NY 14205
Make a Match Gift
​SURJ asks that gifts to support us are matched to a POC-led movement organization. If resourcing Black organizing & organizing in the South isn't already part of your giving plan, please make a match gift! You can find our list of partner organizations at: showingupforracialjustice.org/match-gift