Invitation to Prophetic Imagination:
Community Safety For All: Congregational Action Toolkit
A project of SURJ faith
Imagine a world where
all people are safe.
Imagine a world where
no one's safety depends on increased violence or harm for others.
Imagine a world
without police.
We are living in times that call for prophetic imagination and a courageous willingness to "practice the world we wish to see," as adrienne maree brown says in Emergent Strategy. These times also call for honest reflection on the ways we as white people participate in the perpetuation of racism and a willingness to repent, to turn, to transform, and to go a different way.
In that spirit, SURJ-Faith has created this toolkit for white faith/spiritual leaders and communities/congregations to examine our relationship to policing and police violence, and to #DefundPolice within our own congregational contexts. This project is an act of accountability to people of color who are asking white people to join them in imagining and taking action toward a world without policing. This project is also an act of love for all of us, because we know that policing does not work to keep any of us safe.
In order to stop relying on police as faith/spiritual communities, we are asking questions like:
How do faith/spiritual communities legitimize and reinforce the "need" for policing?
How are faith/spiritual institutions tied to institutions of policing?
How can faith communities act to disrupt the prison and ICE pipelines?
What might alternatives to policing look like?
What might community safety look like without relying on policing, and
how might faith/spiritual communities participate in that work?
Ultimately, how can we invest in each other, believe in each other,
trust each other and the rhythms and cycles around/within us,
and overall relate to each other differently as human beings?
Who do we want to be?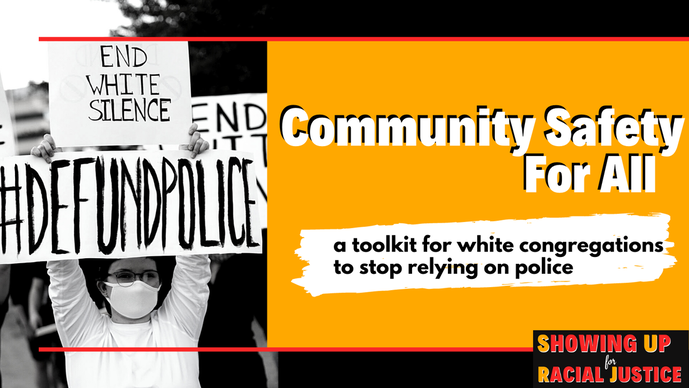 The Community Safety for All
#DefundPolice Congregational Action Toolkit
To Stop Relying on Police
This toolkit is designed for faith/spiritual communities and institutions ready to take action to stop relying on police and build alternatives. The toolkit includes a 4-movement model we've developed to support your congregation in moving to action, including assessment tools, political education suggestions, action ideas, and support options from SURJ-Faith.
Sign up here to access the toolkit!
From the toolkit: "G-d Is an Abolitionist: A Theological Vision Imagining a World Without Police"
By SURJ-Faith Coordinator Rev. Anne Dunlap, Dove Kent, and Rev. Jen Bailey
TOOLKIT GOALS AND FAQ
Deepen our understanding of the history of policing and its connection to the enforcement of white supremacy; consider whether policing works for white people or not.
Reflect honestly as white people on the role faith/spiritual communities play in upholding the system of policing.
Imagine, explore, and engage in alternatives to policing, both internal and community-based, that center accountability to communities of color, collective liberation, and harm reduction strategies.
Publicly extricate our faith/spiritual communities from unjust systems of policing.

Read our FAQs document here.
MORE RESOURCES