In the 2021 general election, SURJ Ohio members in Cleveland, Ohio joined a multiracial coalition of Black-led partner organizations to mobilize voters and win on Issue 24 — a ballot initiative that will create the most powerful police civilian review board in the country, thereby putting the final decision on police policies and the discipline of officers in the hands of the people.
In a heavily policed city like Cleveland — where, 7 years ago, 12-year-old Tamir Rice was murdered by cops in less than 2 seconds after Cleveland Police arrived on the scene to a child playing with a toy in his local park — many thought that the Fraternal Order of Police would block an accountability measure like Issue 24. But the measure passed by 18 points – a result of years of deep organizing in multi-racial communities led by Black Lives Matter Cleveland and families who have been affected by police violence.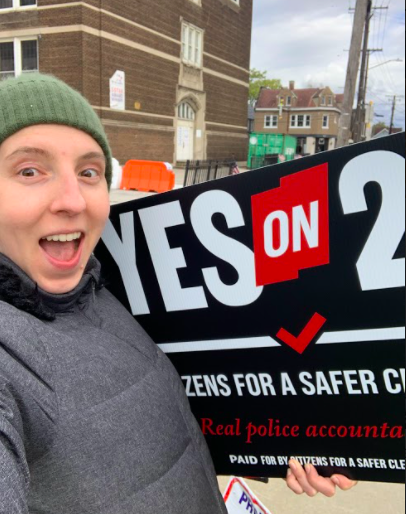 SURJ Northeast Ohio (SURJ-NEO) led an extensive canvassing and phone banking program targeting majority-white communities in the City. Over 100 SURJ Ohio volunteers had almost 4,000 conversations at the doors and over the phone with white voters in Cleveland to mobilize them in support of Issue 24 and the Citizens for a Safer Cleveland campaign.
Campaigns like Yes on Issue 24 are not simply election season fights.
Back in 2015, after the murder of Tamir Rice, white SURJ Ohio members began asking this question: "How can we organize white people in this historical moment of police accountability?"
The answer from our Black partners was resounding: accountability processes are only as good as the people who show up for them. White folks must show up.
And so, as part of a multiracial coalition, SURJ Ohio members participated at every Community Police Commission meeting for over 4 years — making sure that white folks did our part to hold the city accountable. That commission eventually went on to be the working group that worked with the families to create the initial ballot initiative known as Issue 24.
The Issue 24 ballot initiative victory is the result of over 6 years of long-haul organizing that followed the leadership of those most impacted by police violence.