"My right to be me is tied with a thousand threads to your right to be you."- Leslie Feinburg, white butch activist and author
Happy pride month! Across our staff and membership, so many of us are queer. So many of us found our way into this work because of our own experiences of deep oppression and deep belonging. So many of us have found our shared interest in the work of racial justice because of our queerness.  Amidst the intensity of ongoing repression today, if you're queer: we love you, we're with you, and we're fighting for you.  
Speaking of being proud, last month we launched our national three year strategy to stop authoritarianism from taking over the federal government in 2024 and to build an enduring base of working class white people. 

Schools are cornerstones of our communities and public education is an important part of democracy. Across the country, the far right is using schools for stepping stones to power, scapegoating and endangering trans kids and enforcing curriculums that teach lies about our country. And they rely on the support of white parents and white voters.
We are building a program to support members and chapters across the country to out-organize the far right in white communities and to work for school systems that serve all students.
Join us for our first School Board Organizing Call on June 20 at 8 ET to learn more.
We are especially excited to have folks from Wisconsin, North Carolina, and Georgia on the call to build momentum going into our priority 2024 election swing states.

On the heels of our victory defeating the near-total abortion ban in Kentucky, we're continuing the momentum to build progressive power in this Southern state where SURJ has deep roots. This year, SURJ members in Kentucky and across the country will organize white, working class voters to re-elect Democratic Governor Andy Beshear, who stands between a possible Republican trifecta and many of the far-right policies moving across the state.
Join us on June 22 at 6 ET to call others in the SURJ network and invite them into this work.

Join the newest campaign of SURJ's project, Southern Crossroads, to call rural Georgians to discuss how rural hospital closures are affecting them. Our goal is to call 1,000 rural residents of majority-white counties in Georgia to build with them and invite them into our work.
Register for our first phone bank on June 12 at 6 ET.

The Republican supermajority in the Kentucky state legislature overrode Gov. Andy Beshear's veto and passed SB 150, one of the worst anti-trans bills in the country, banning gender-affirming care for trans kids and mandating schools discriminate against trans students. This horrific targeting of young people not only endangers their health and safety, but is a clear power-grab by the far right– to use trans kids as a distraction they build power around, while they underfund schools and slash funding for social services for kids.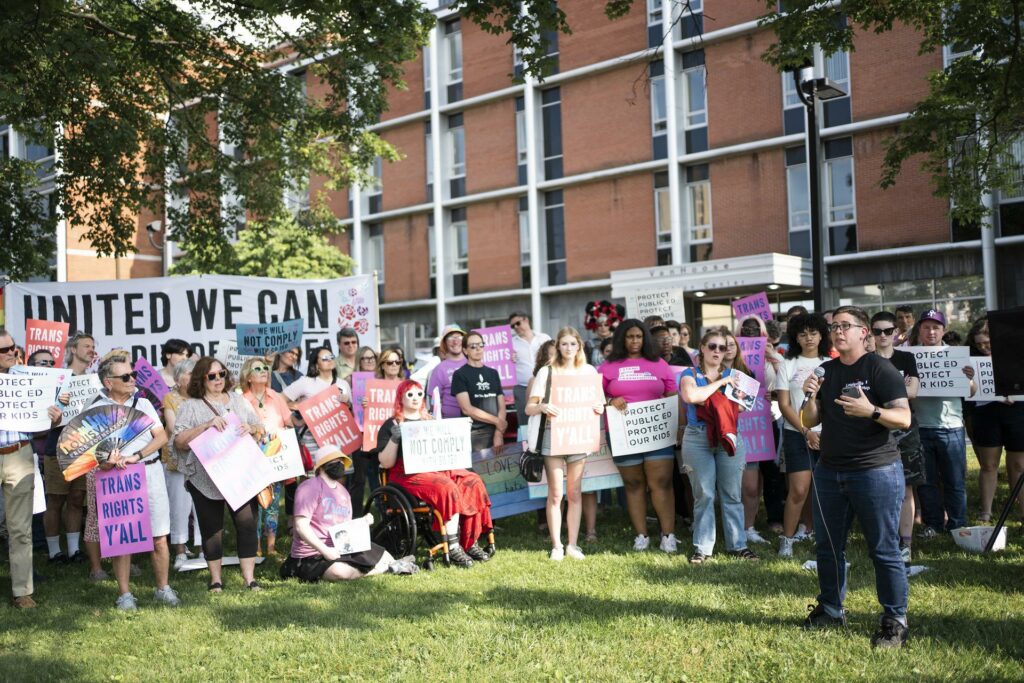 On May 23, Louisville SURJ chapter members and SURJ National staff rallied alongside organizations from across the city, students, and public school teachers to demand that the Jefferson County Public School system vote to not comply with the statewide mandate.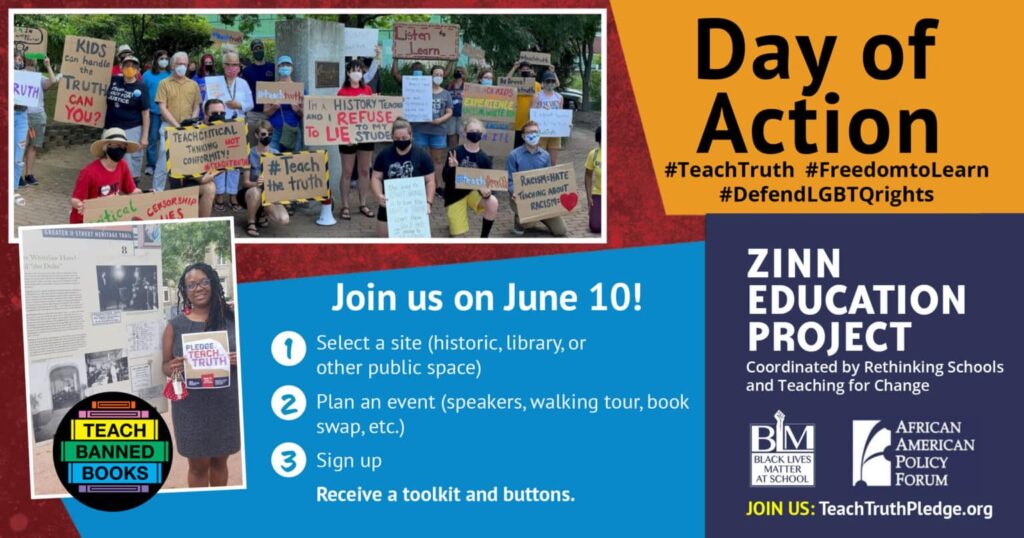 With the Zinn Education Project ad ReThinking Schools, SURJ is a partner in the National Day of Action to Teach Truth. For the past two summers, teachers have rallied across the country at historic sites to speak out against anti-history education bills and to make public their pledge to teach the truth, providing a valuable counter narrative to the oversized coverage of the well-funded anti-CRT movement– and we're doing it again this year.

SURJ chapters across our network are showing up in these efforts– learn more here about how you can sponsor an action in your community.

Register here for our action hour on Thursday, June 15, 3 ET– our monthly opportunity to take meaningful action for abolition campaigns and racial justice in a supportive community.
New around here? Register to join our new member orientation on June 14 at 12 ET.

SURJ in the news:
Our rally in Louisville demanding the school system vote to not comply with the state's legislation targeting trans students
SURJ Executive Director, Erin Heaney, on this new podcast about race and white people
Salon's coverage of the organizing happening in Florida against DeSantis, including SURJ members
And more: