SURJ and LSURJ are proud to endorse the candidates below.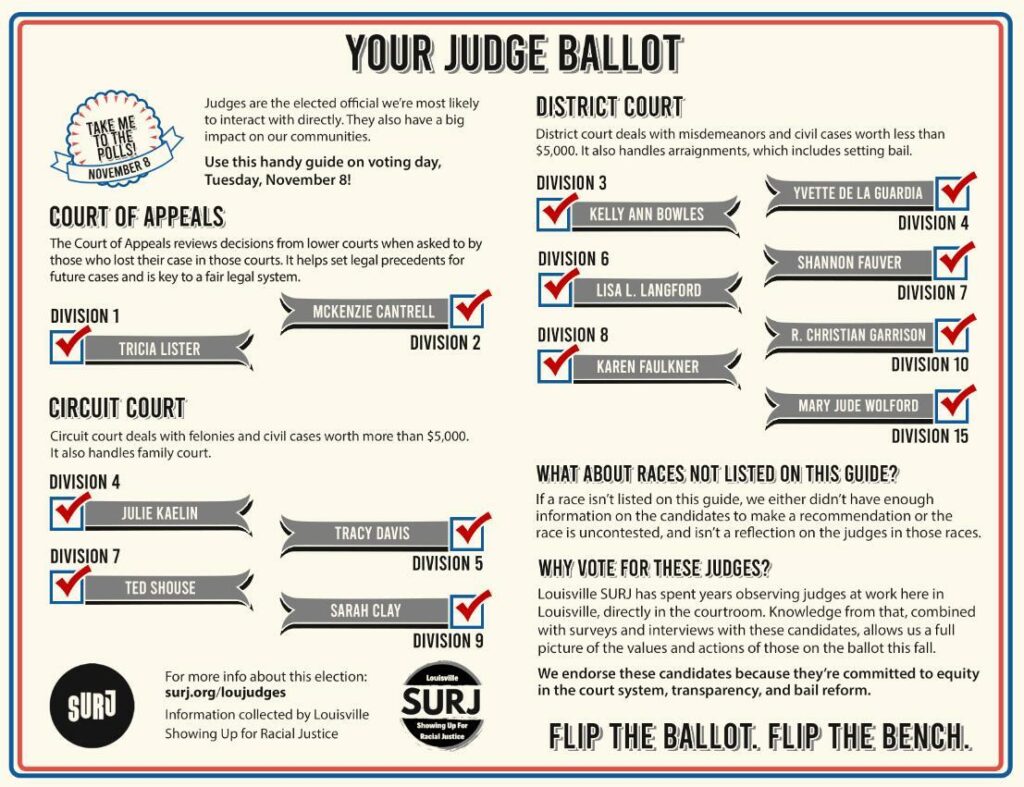 Coming to these endorsement decisions has been years in the making. For us, Ending Cash Bail is the "low hanging fruit" when it comes to changing the criminal justice system in a meaningful way for everyone- especially poor and working class folks. In our field work, we've determined that 76% of voters are with us on the issue regardless of their political party or race. Cash bail is a classist system that needs to go- and every day in arraignment court, judges are asked to use their discretion about when, if, and how high to set bail. By putting pressure on sitting judges and backing progressive candidates, we aim to curb and ultimately eliminate this classist practice one courtroom at a time. In doing so, we have an opportunity significantly lessen the population of our overcrowded and deadly city jail. See notes on our process at the bottom of this page.
Join us.
Click here to sign up for our canvasses and lit drops.
After years of work, our End Cash Bail campaign is near one of its largest inflection points. We have an opportunity to affect the judicial elections, supporting judges and judicial candidates aligned with our values on cash bail, a new jail, and other important justice issues. If we're going to win- we need you out on the doors this month! We'll be knocking every weekend leading up to the election on November 8. Can you join us?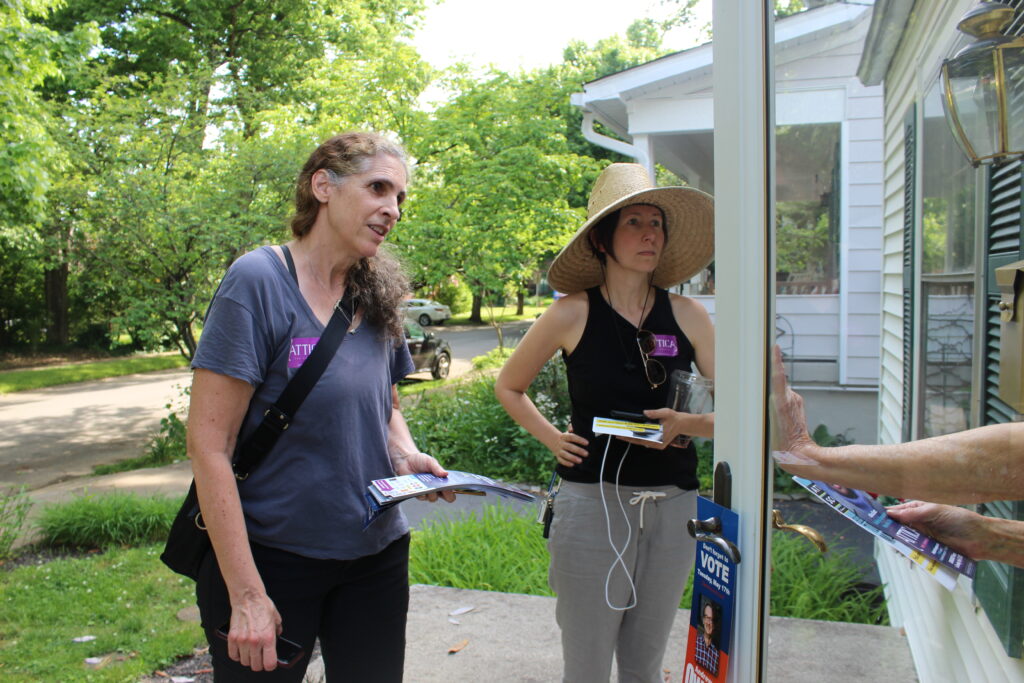 Additionally, we'll be dropping our judicial endorsements off to the myriad of folks who have signed cash bail postcards over the years. We'll start lit-drops on November one and likely continue through election day. It's best to go in pairs: one driver, one runner. We hope that pairs can devote 2-4 hours to this per shift and we're flexible on start and end times. If you're interested in being a lit dropper, email Alex Flood at alex@surjaction.org and say when you'd like to do it!
Why judges?
We have a long term goal of ending cash bail state-wide- in that ultimate campaign we will target our legislature. So why pressure Louisville judges, why endorse in this election? There are two key reasons:
Short term, real-life consequences for individuals and families: Of everyone you see on your ballot, judges are the most likely to directly interact with and impact your life. On day one, the judges elected this November will be making decisions that will change people's lives forever. When a judge decides to set an unattainable bail for someone and they are forced to await trial behind bars, the chances of them losing their job, housing, etc… increase dramatically and continue to increase daily. While by itself this is inexcusable, these citizens are being denied their constitutional right to a "speedy trial by a jury of their peers" waiting usually months, sometimes over a year for their day in court (nationwide averages: 256 days for felony cases and 193 days for misdemeanors.). During this time folks tend to lose jobs, housing, and miss important family obligations. Sometimes these cases end in an innocent verdict, charges dismissed, plea deals, or sentences that do not include time behind bars- all the while these folks have been substantially punished with pretrial wealth-based detention regardless of the outcome.
Discretion: While we'd love to see individuals philosophy and temperament ultimately removed from the equation of pre-trial detention, the simple fact is that judges have great discretion when it comes to cash bail. Whether to set bail and how high to set it are up to a judge in nearly every case. Your bail amount can ultimately hang in the balance of which judge is assigned to you in arraignment (they rotate this duty) and how their day is going. Often, folks with identical cases and backgrounds may end up with radically different outcomes based on what judge they're assigned.
Why Cash Bail?
It's not that complex: rich people go free and the rest of us stay in jail.
The amount of money in your bank account should never be the determining factor in whether or not you're free. So often we see bail set at unrealistic and unobtainable levels for the accused. This results in a system that hurts poor people the most.
Some other key reasons for this fight:
80% of people incarcerated right now are "legally indigent", meaning they cannot afford the daily necessities of life. Asking these folks to pay for their freedom is unrealistic. Imagine missing a job interview, AA meeting, or any opportunity to better your life because the price tag of freedom was too high.
Our jails are full and 80% (almost 700,000) of people locked up nationwide are there because of an unnaffordbale bail alone. This number of pretrial incarcerated people has increased by 433% since 1970.
But aren't these people dangerous?
No. It's important to remember that these are folks awaiting trial- not convicted of anything. These cases often end in an innocent verdict, charges dismissed, plea deals, or sentences that do not include time behind bars.
When a judge set a cash bail regardless of charges, whether the amount is $5 of $100,000- that's a reflection of the state saying: this person has a right to be free, but only if they can afford this rate. This is classism in its most clear iteration. We are advocating for an end to a price tag being attached to someones freedom.
What's the alternative?
The alternative is believing that people are innocent until proven guilty. The alternative is letting innocent people be free.
I said it above and I'll say it again: when a judge set a cash bail regardless of charges, whether the amount is $5 of $100,000- that's a reflection of the state saying: this person has a right to be free, but only if they can afford this rate. We are advocating for an end to a price tag being attached to someones freedom.
The theoretical reason for bail is that it incentivizes the accused to show up for their trial. The reality is that whether cash bail is present or a person is released on their own recognizance- people show up at nearly the same rate (81% vs 88%).
Our endorsement process
Court Watch: For years we have sat in on arraignment court (including via Zoom during COVID) to observe and document the use of bail. In doing so, we've seen a number of sitting judges and taken note on: when they use bail (vs. release on recognizance), how high they set bail, and how those factors relate to the things like: the race of the accused, the presence of a private attorney vs. a public defender, the presence of known disabilities, and the charges themselves. With years of data under our belt, we're able to get a more clear picture that's helped determine our endorsements.
Meeting with judges and candidates: In addition to Court Watch, we extended invites to all sitting judges over the years to meet with us and talk about Cash Bail and other issues. Over 25 LSURJ members participated in these meetings. Through conversation we learned a lot about judges histories, values, and philosophies that brought them to the bench and inform their decision making. When we saw they primary slates in January we also got a chance to reach out those who'd be running for a seat and challenging sitting judges. At this time we also gave those who had refused previous meetings an opportunity to meet with us again.
Our questionnaire: Finally, we reached out to every judge in a contested seat and their challengers with a questionnaire to get answers to some of our questions about Cash Bail, the potential building of a new jail, and possible criminal-justice- related outcomes Amendment 2 (which you'll also see on your ballot and we encourage you to VOTE NO!).
These three prongs of our endorsement process helped to paint a picture for us of who we need to elect to create a more just justice system. Some decisions were easy and others were challenging. Though the system remains imperfect, we believe that with our slate of endorsements on the bench we'll see less people behind bars awaiting trial because of the amount of money in their bank account.
---
Louisville Showing Up for Racial Justice (LSURJ) is part of a national network of individuals and groups working to undermine white supremacy and work toward racial justice.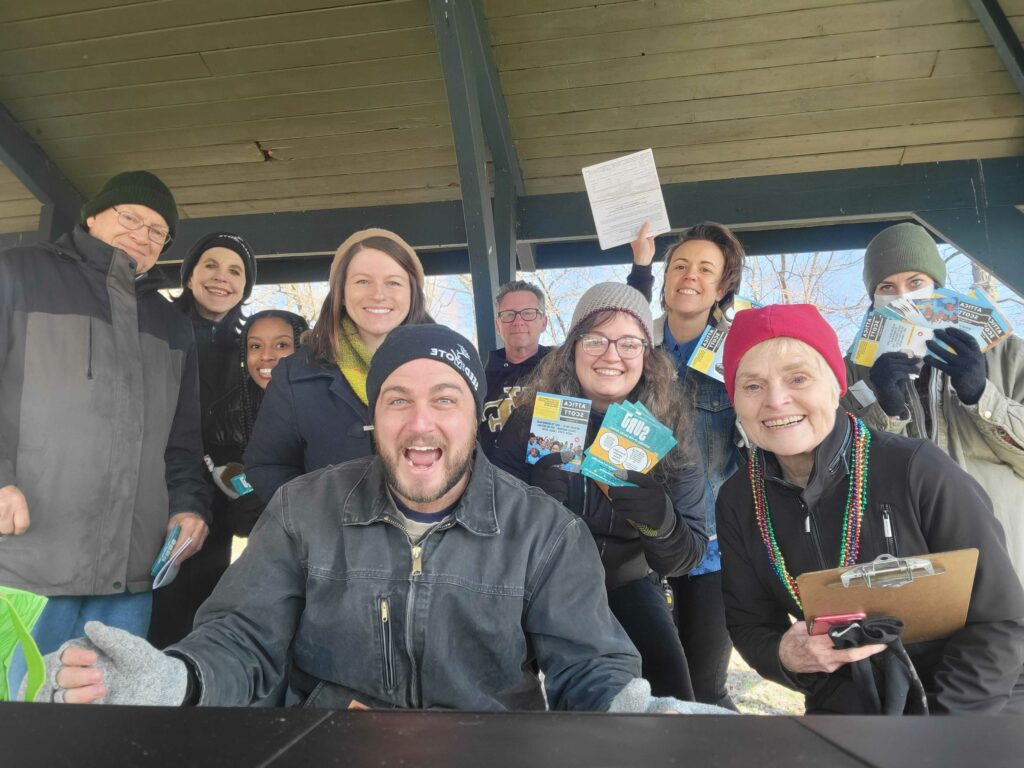 ​Through community organizing, mobilizing, and education, LSURJ moves white people to act as part of a multi-racial majority for justice.
We have so much work to do reaching people in majority white communities about why racial justice will help free us too. Learn more and stay engaged at our monthly meetings, held the second Tuesday of each month in the evenings. ​Meetings are currently held online.
7:00-7:30 pm ET: Welcome Time for new or new-ish folks–join us if you want to learn more about LSURJ in an interactive way.
7:30-8:30 ET: All are welcome to learn more about getting involved in and helping plan the LSURJ part of Campaigns for Action on issues like mass incarceration and ending cash bail, policing, the city budget, and getting cops out of schools.
Register here. You can join at either 7:00 or 7:30. It is up to you! Request ASL interpretation by emailing LouisvilleSURJ@gmail.com.
Paid for by SURJ PAC (www.SURJO.org) and not authorized by any candidate or any candidate's committee.