I'm writing today from my home in Kentucky where the Kentucky Legislature just passed harmful anti-trans, anti-LGBTQ bills that target trans young people. The Democratic governor will veto them, but because of a conservative supermajority in the legislature, they have the votes to override a veto and put these laws into place.  Trans people like me in Kentucky are scared, but we're also ready to fight back. To my fellow trans folks living in the South or in places targeted by anti-trans discrimination: I love you and I see you.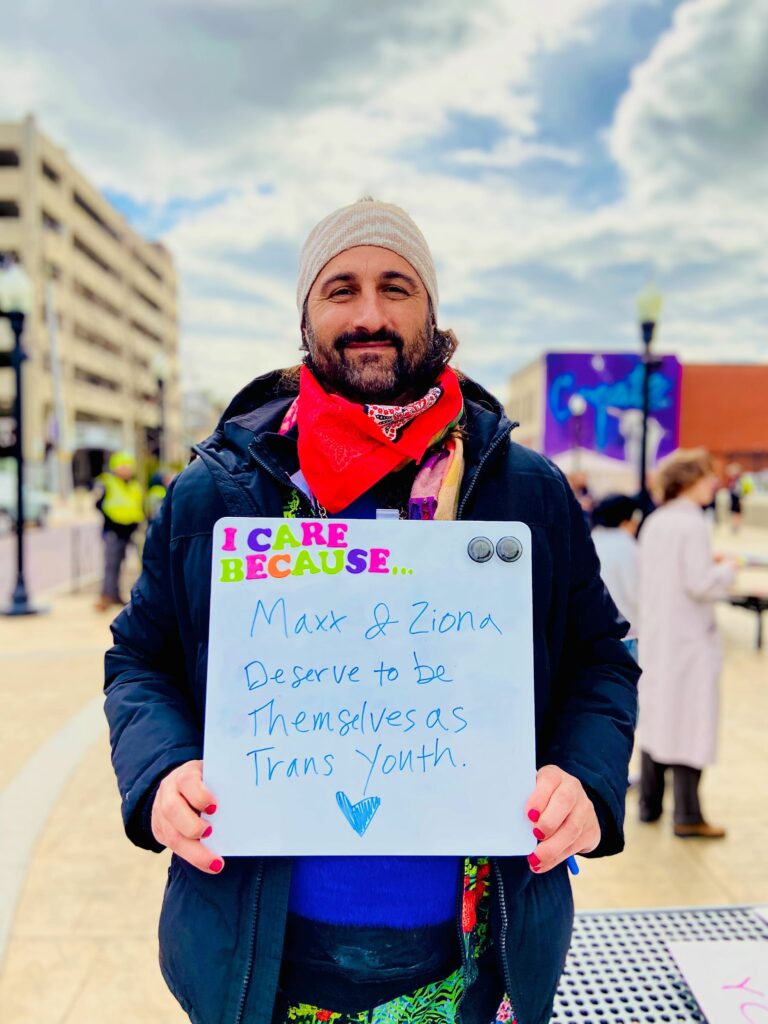 We know voting and elections aren't going to solve all our problems, but when we let Far Right conservative agendas run unchecked, the Right consolidates power and is able to pass legislation that will harm the most marginalized. They rely on the votes of white people to build this kind of power.  As we're seeing racist, transphobic agendas spread across the country, organizing white people away from the lies of the Right and into solidarity is one of the most important things we white folks can be doing to stop these authoritarian policies and candidates that will have dire consequences for trans people, people of color, working people– really, for all of us.  While they drum up moral panic about the threats of drag shows and trans kids, they distract from the real problem: a small group of power-hungry elites who don't care about any of us.  
What's giving me hope is watching trans people across my state stand up and fight. Over the weekend, I joined an action at the state house with one of SURJ's projects, the Kentucky People's Union– a group of working people organizing in a small city in Appalachian Eastern Kentucky. Young trans folks from KPU, Ashland Pride, and other organizations across the state are leading their neighbors to fight against the legislature's laws and hateful messages. They follow in the tradition of the Irish-American school teacher, Appalachian union organizer and freedom fighter, Mother Jones, who said, "Mourn for the dead and fight like hell for the living."  
Click here to watch SURJ's Executive Director, Erin Heaney, and I talk about this legislation, SURJ's deep queer roots in Kentucky, and why fighting this anti-trans legislation is entwined with fights for racial justice. Don't forget to join our email list to get updates on how you can take action with us.
With love and solidarity, Z! Haukeness and SURJ