So much will be on the line in the 2022 midterm elections. The Right has been organizing, doubling down using strategic racism as their primary strategy to retain and expand their white base as a pathway to power. If they win, it will mean escalated violence, deeper erosion of our democracy and deeper structural oppression for all of us.
The good news is that our movement is also contending for power – and running our own candidates. Last week, Charles Booker announced that he is running for Congress in Kentucky against Rand Paul. 
Charles Booker was born to a working class Black family in one of the poorest neighborhoods in Louisville. West Louisville was intentionally redlined and gerrymandered into becoming the most economically disenfranchised and blackest parts of the entire state.
Booker understands firsthand what it's like to go without food, to ration insulin for his diabetes, and see his family struggle. His background informs his progressive politics: reparations, police reform, universal healthcare, cancelling student debt, the rights of workers to organize, and the Green New Deal.
Booker's campaign is not just about winning an election but it's about building a progressive movement for Black, Brown, and poor white people across the state from the "Hood to the Holler."
SURJ is all in to help elect Charles Booker and build an enduring multiracial movement in KY.
The Right is already telling racist lies to ensure white folks stay in line. Just one day after Charles Booker announced, Rand Paul sent a baiting email to his supporters calling Booker a "racial left opponent," and the National Republican Senatorial Committee tweeted the day he announced that Booker would "take away their guns, hike taxes and destroy jobs."
As a result of white support for the status quo, Republicans have been able to retain and expand their political power in a state that is 87% white and very poor. This has devastating consequences for communities of color, poor white people and for winning reforms on nearly any progressive issue at the state and national level.
There is no pathway to changing this without organizing white people. That's why SURJ has a plan to connect with 50,000 voters across Kentucky. On doors and by phone, we will connect SURJ members with rural voters to talk about the issues that impact them, inoculate people against dangerous, racist lies the Republican Party is already deploying against Booker, and ensure people show up to vote.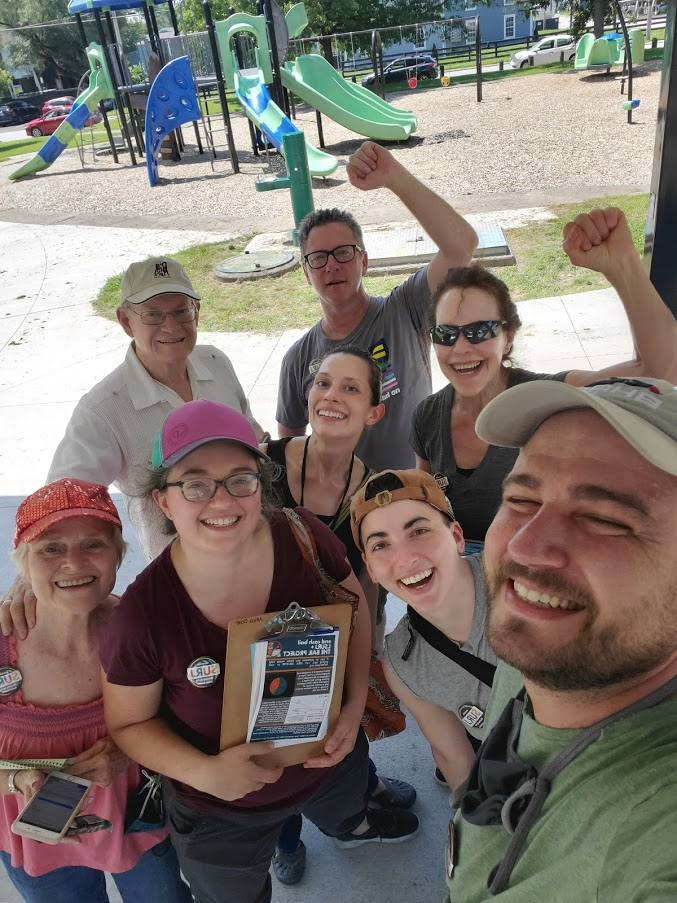 These upcoming fights build on SURJ's work in Kentucky for the last decade. Louisville SURJ has been working alongside frontline communities in Jefferson County that has resulted in ending the contract of Louisville police with the public schools, stopping polluting industries from being placed in Black neighborhoods, large participation in the recent battle for Justice for Breonna, and building power to end cash bail.
This spring, SURJ's Southern Crossroads launched the Rowan County Listening Project in Eastern Kentucky that is building a base of poor and working class residents to work together to improve their living conditions, refuse to scapegoat poor people and people of color, and win concrete policy change. Members are talking with their neighbors door-to-door as part of a community survey process to identify the issues that impact residents' lives, such as rising rents, unemployment, and high utility costs. Through this listening project, local residents will connect with at least 400 residents to complete surveys, educating, agitating and organizing along the way.
SURJ has done this work as part of a strong and vibrant movement in the state. SURJ is a member of the Commonwealth Alliance, a Kentucky statewide progressive electoral table. As a member of the Commonwealth Alliance, SURJ will be working alongside other grassroots and political organizations so we are each coordinating strategy, sharing resources, and playing our role to win electoral power across the state.
The Right is already pouring money into Kentucky to convince white voters to side with Mitch McConnell and Rand Paul. What action will you take to help more and more white Kentuckians choose multiracial solidarity instead?