This morning we're celebrating a landslide victory in Kentucky's governor race. SURJ played a critical role in delivering a win for Democratic Governor Andy Beshear. And if we can win in Kentucky, we know we can win big in 2024.
The GOP, Trump-endorsed candidate Daniel Cameron ran his campaign out of the far right play book: stirring up fear and hysteria around issues like trans kids' healthcare and abortion in an attempt to distract from his party's failure to deliver on policies that serve working people. But Kentuckians refused to be divided– and instead supported a candidate who showed up for trans kids, vetoed anti-CRT legislation, and defended abortion.
SURJ complemented Beshear's campaign, which focused on urban voters likely to vote for Democrats, by doing what we do best: long, values-centered conversations with voters the party doesn't usually talk to.
Over 600 SURJ members on the ground in Kentucky and across the country reached just shy of half a million voters, had over 71,000 conversations, and secured over 10,000 commitments to vote. We talked to voters in majority-white, working class counties who were either unlikely to vote or unlikely to vote for a Democrat. Everywhere we worked, we won! Compared to his first run in 2019, we expanded Beshear's win in four counties, most notably Letcher– a highly rural, old coal mining community where we ran billboards and knocked doors. In 2019, Beshear lost Letcher county, but this year, in large part to our efforts, he won by 5 points.
The first Tuesday in November always grabs our attention, but wins on election day are the results of years of organizing. SURJ and our Louisville chapter mobilized thousands of white people into the streets after Breonna Taylor was murdered, worked to end cash bail in the city, and elected a slate of progressive judges last year. In Ashland and Madison County, we're organizing white working people into multiracial fights around renter's rights. We win because of the year-round work of developing leaders and building with communities across the state.
Join me and Beth Howard, SURJ's Appalachian People's Union Director who is on the ground in Kentucky, TODAY at 12:15 ET on IG Live to hear more about our work on this campaign.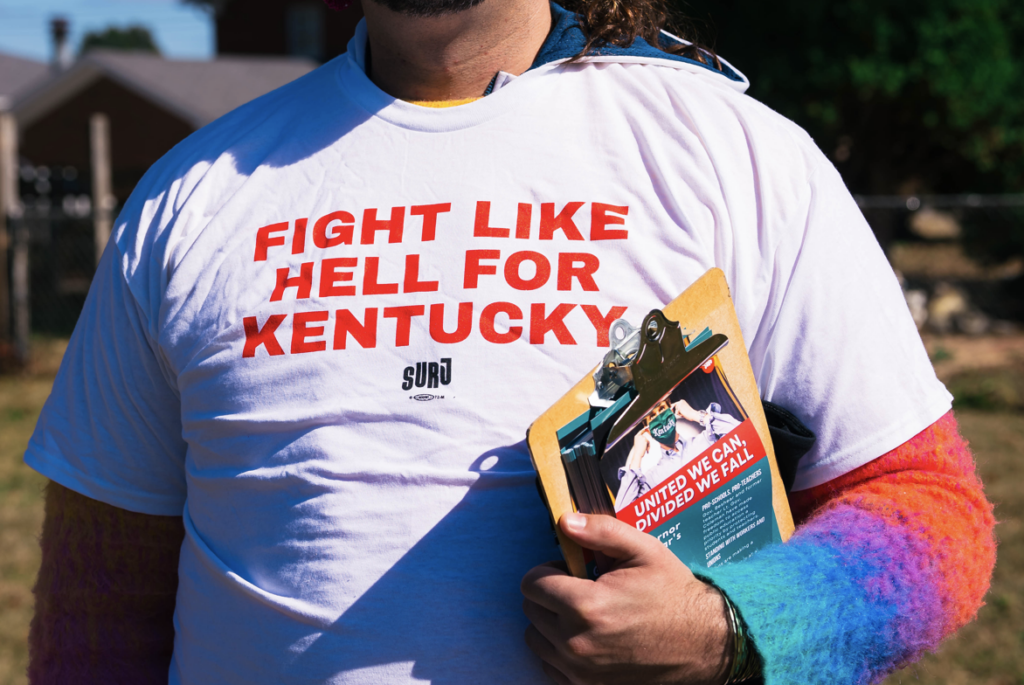 As we turn towards the 2024 election, we know we will need a massive, multiracial movement to beat back authoritarianism and the MAGA faction. One critical piece of that coalition will be white voters. This is the work of SURJ– moving masses of white voters by going through, not around, issues of race and gender. And when we do this, we win.
In 2024, we have a plan to win, replicating this work in Kentucky in Ohio, North Carolina, Georgia, Wisconsin, and Arizona. And we need your support to pull it off.
Can you make a gift to help us start building towards victory again in 2024?